Hi, dear administer. My WRF version is 4.4.1. My outermost domain is east China and running time is three months. Amounts of processors for running is 48 (I think it may be enough).
At first, I follow the rule to set time_step=54 (6 x dx ,my dx is 9000). However, CFL error happened after 1 hour running. I reduce time_step to 36 (4 x dx), but, another segmentation fault occured after 15 minutes running. I found the rsl.error.00*, but there were no clear instructions for help. The files and my namelist.input are uploaded.
Another question is that when I use default parameters of &pyhsics of 'CONUS'(all are set to =-1) and turn off urban physics, no segmentation (CFL or any other) fault occurred. However, the same segmentation fault occurred again when set sf_urban_physics =1.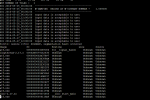 Last edited: